REASONS TO SHOP LOCAL
Buying local in Downtown New Albany is supporting yourself too - Recent studies show that when you buy from an independent, locally-owned business, rather than a nationally-owned businesses, significantly more of your money is used to make purchases from other local businesses, service providers, and farms — continuing to strengthen the economic base of the community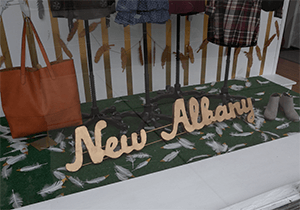 Support community groups - Small businesses donate more than twice as much per sales dollar to local non-profits, events, and teams compared to big businesses.
Keep our community unique - Where we shop, where we eat and have fun — all of it makes our community have a sense of identity. Our one-of-a-kind businesses are an integral part of the distinctive character of downtown New Albany.
Reduce environmental impact - Locally owned businesses can make more local purchases requiring less transportation, and generally set up shop in town or city centers as opposed to developing on the fringe. This generally means contributing less to sprawl, congestion, habitat loss, and pollution.