Tickets for Titanic: The Musical at TheatreWorks of SoIN Now Available!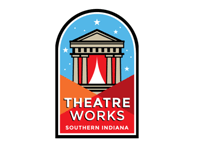 TheatreWorks of SoIN is pleased to announce that tickets for Titanic: The Musical with music and lyrics by Maury Yeston and book by Peter Stone are now available. Stone had this to say about the production: "The musical play TITANIC examines the causes, the conditions and the characters involved in this  ever-fascinating drama. This is the factual story of that ship of her officers, crew and passengers, to be sure, but she will not, as has happened so many times before, serve as merely the background against which fictional, melodramatic narratives are recounted. The central character of our TITANIC is the Titanic herself."
Performances will take place at TheatreWorks of SoIN's home in the former historic Indiana State Bank Building (203 E. Main Street) in Downtown New Albany. There are 15 performances beginning April 4 and concluding on April 15. Tickets are $16 for adults and $13 for seniors and students. Additional pricing and purchasing information can be found online at http://theatreworksofsoin.com/tickets.
The Musical opened on Broadway in 1997 and won a total of five Tonys - including Best Musical, Best Book, and Best Score. The production of the show by TheatreWorks of SoIN is the regional premiere of the ensemble version. The original show has been reinvented to allow actors to portray multiple roles in a more intimate staging. For this production, director, Chris Bundy, and technical director, Kota Earnhardt, have created a multimedia experience for the audience. Earnhardt said, "The show will be enhanced through the use of three projectors featuring historical pictures and new animations to set the scenes and mood for the show." Bundy shared, "Titanic is so much more than a footnote to history. This beautiful musical let's the audience become immersed in the lives of those who loved and died in one of the greatest tragedies of the twentieth century."
The Musical is also well-known for its gorgeous, yet challenging Tony-Award-winning score. The music director, Hannegan Roseberry, shared, "The degree of difficulty with the music in the show is quite high, but the cast has surpassed all expectations. The music is overwhelmingly beautiful. I am very excited to share this work with the community." There are 24 cast members comprised of actors from Louisville and Southern Indiana. The exquisite lighting for this production is made possible thanks to a generous grant from the Horseshoe Foundation of Floyd County. You can find more information about TheatreWorks of SoIN at http://theatreworksofsoin.com.