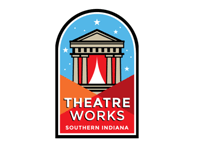 TheatreWorks of SoIN is pleased to announce that Two by Two - a musical comedy of Biblical proportions - runs August 1st through the 12th at their theatre in Downtown New Albany. This very funny musical has a book by Peter Stone, lyrics by Martin Charnin, & music by Richard Rodgers. Tickets are available at http://theatreworksofsoin.com or by calling 812-725-7601. This show is rated PG for mild language and suggestive content.
On his 600th birthday, Noah receives a message from God, warning him about the impending flood. This comical musical tells the story of Noah's efforts to build an ark for two of each animal and his family before it is too late. The musical features Chris Bundy, retired Floyd Central High School theatre director, and current Artistic Director of TheatreWorks of SoIN as Noah.
Chris Bundy shared, "The story of Noah and the ark is, of course, a well known one, but this, both, humorous and touching version will bring both laughter and a few tears. Plus, the music of Richard Rodgers' last score, is sure to please." He went on to say, "Returning to the stage this one last time before retiring from acting is a bittersweet one, but how appropriate that it will be in the role of Noah which I've portrayed in five previous productions of the show. Our great cast, including Kate Henderson as Noah's wife with whom I was opposite in four of the productions, will make this particularly meaningful."
Chris Bundy has announced that this season with TheatreWorks will be his last. While the theatre will continue offering shows, Chris and his wife, Salem educator, Jenny Bundy, are planning to move to Indianapolis one year from now to be closer to family.
Performances will take place at TheatreWorks of SoIN's home in the former historic Indiana State Bank Building (203 E. Main Street) in Downtown New Albany. There are 10 performances beginning August 1 and concluding on August 12. Tickets are $18 for adults and $16 for seniors and students. Additional pricing and purchasing information can be found online at http://theatreworksofsoin.com/tickets . If you have trouble getting tickets online, you can call 812-725-7601.