The 25th Annual Putnam County Spelling Bee at TheatreWorks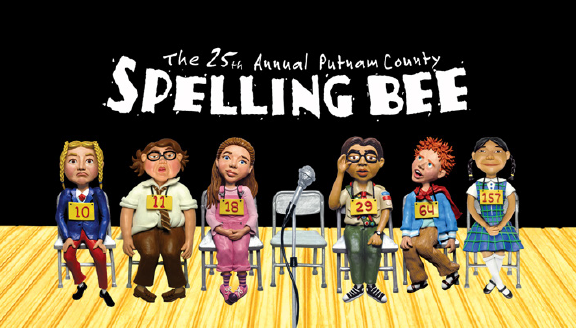 Tickets for the musical, 25th Annual Putnam County Spelling Bee, at TheatreWorks of SoIN Available!
TheatreWorks of SoIN is pleased to announce that tickets for The 25th Annual Putnam County Spelling Bee are available. Performances will take place at TheatreWorks of SoIN's home in the former historic Indiana State Bank Building (203 E. Main Street) in Downtown New Albany. The musical will be presented February 6 - 9 and 13-16 at 7:30 p.m. with matinees at 2:00 p.m. on February 10 & 17. Tickets are $18 for adults and $16 for seniors and students. Additional pricing and purchasing information can be found online at http://theatreworksofsoin.com/tickets. If you have trouble getting tickets online, you can call 812-725-7601.
In this outrageous and witty musical, an eclectic group of six awkward spelling champions learn that winning (and losing) isn't everything. Each tween candidly discloses hilarious and touching stories from their home lives as they spell their way through a series of impossible words. Every night two audience members will have the chance to come onstage and compete in the spelling bee as well. The book is by Rachel Sheinkin, and music/lyrics are by William Finn. This show is rated PG-13 for language and content.
Director Jason Roseberry shared, "Spelling Bee has always been one of my favorite shows, and I am thrilled to have the chance to direct it at TheatreWorks. The cast is exceptional and they have done a marvelous job bringing these very real and funny characters to life. I think audiences are going to have a wonderful evening - especially with the improvisational nature of the show. It will be slightly different every performance. I think this is also the most dancing we have ever had on our little stage. Amy's choreography is fun, clever, and energetic."
The show is choreographed by New Albany High School Theatre Director, Amy Miller. Hannegan Roseberry, musical director, shared, "The music is witty and charming, but difficult. These actors have more than risen to the occasion musically."