BASKETBALL IN THE HOOSIER STATE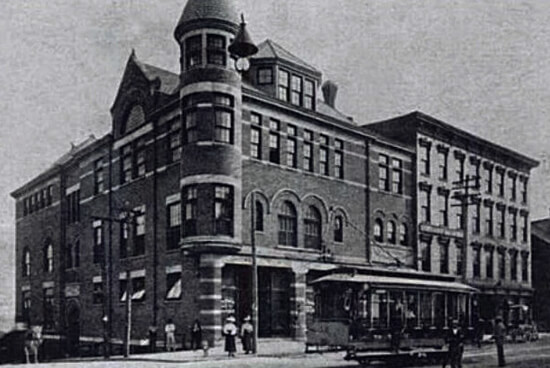 Basketball, a top sport now throughout the Hoosier state, got its start in New Albany at the Y.M.C.A.. The Y.M.C.A. was built in the 1890s at the intersection of Main and Pearl Streets. The old building was torn down in 1954 to make way for a Municipal Parking Lot. The Y.M.C.A. had the first indoor gymnasium in New Albany and soon intramural teams were formed to play the brand new game of basketball which had been developed as an indoor game for winter months when outdoor sports were impossible. Four teams were formed – the Anchors, the Arrows, the Keystones and the Stars. 
The new game didn't attract too much attention in its first years. Then the momentum began to build up. The first New Albany High School basketball team was organized about 1902 and played home games at the Y.M.C.A. It wasn't a particularly strong aggregation in the early years, and in 1904 lost every game of the season. But in 1906 high school basketball here got a shot in the arm with the completion of the new high school on Spring Street with an indoor gymnasium.
Then the following year the organization of the team as it is managed today came into being. Before 1907 the high school team operated rather independently of the school, playing non-school teams in the Y.M.C.A. League. But that year the captain was suspended from play because of low grades. The team then claimed it was operating as an independent organization and the captain returned to the team. As a result, the School Board took action to put all high school athletics under the direct control of the school – just as it is today. 
Edwin Hubble coached boy's basketball at New Albany High School for a year. Pictured here is a team from the 1914 season. Edwin's basketball experience included staring as a forward on the University of Chicago Maroons' Big Ten-champion basketball team. Edwin went on to play a crucial role in establishing the fields of extragalactic astronomy and observational cosmology and is regarded as one of the most important astronomers of all time.
Image/Story - NAFC Public Library / Floyd County Historical Society