Sounds of live music fill the air from an outdoor concert on a warm Friday evening alongside fashionably dressed couples strolling through a downtown on their way meet up with friends for dinner and drinks.  On the next block the smell of curry, onions and spices wafts through the air in front of you along with the laughter of celebration after a few too many samplings of the latest craft brews.  At this point the image in your mind's eye might be the last time you had a night on the town in a large city such as Chicago or New York or even Paris, but this is actually the downtown of a small Southern Indiana city (population 36,670) that was saved by its many old buildings and young people.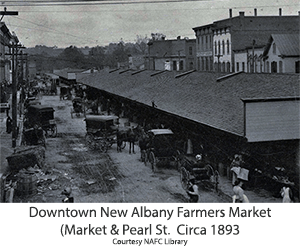 Downtown New Albany, Indiana was an industrial center and Indiana's largest city for a period of more than 30 years during the 1800's. Freshly built steamboats were slowly moved into position and then slid down the shore into the Ohio River on their way to make their maiden voyages.   The downtown streets were lined with merchants while horse and buggies lined up along a large covered open air market catering to the needs of dock workers and travelers.  The overall prosperity of the community was reflected in the Romanesque Revival, Victorian Gothic, Neoclassical, Egyptian Revival Style, Greek Revival Style and Italianate buildings in the nearby homes built during this period of prosperity.
As with many historic downtowns that reached a plateau of wealth and prosperity in the 1800's the changes of the next century were difficult ones to bear. The arrival of the automobile and the highway system brought about the destruction of historic structures as compromises to a new lifestyle that required more parking spaces and faster access to the suburbs.
In downtown New Albany the primary two way streets through town were converted to one way "mini highways" to move traffic through town as fast as possible to connect up with the nearby Interstates and reach the suburbs. Local residents that lived along these three lane residential "mini-highways" experienced traffic patterns that moved faster and faster over time just steps from the front doors of their vintage homes.
Given the rise of the automobile and the trend toward suburban living,  downtown New Albany had become a ghostly remembrance of a once glorious past. Historic windows and faςades of downtown buildings were covered with metal sheeting to conceal handcrafted details, while even worse some buildings were simply left to face the forces of nature and time or even the wrecking ball.
The sense of general apathy and slow decline of the downtown reinforced feelings of inferiority about their downtown, about themselves and lack of any hope for the future.
Then something wonderful began to happen.
The general apathy in downtown New Albany that left many historic structures empty, boarded up and closed for years provided a perfect platform for a new generation to chart a new course for a new way of life.
A generation that has witnessed their parents spending their lives driving to and from the suburbs was changing gears toward a downtown lifestyle built on community, bicycling, walking and entrepreneurship. Downtown New Albany had all the potential needed for a generational renaissance.
Young entrepreneurs purchased historic buildings and renovated them while using social media and community marketing to reach each other in ways not possible previously.  A fresh sense of community, identity and interconnectedness combined with a large number of unique historic structures has taken hold and created momentum for the downtown.
We hope you have an opportunity to explore New Albany and have a wonderful time experiencing the shopping, dining and nightlife in our historic downtown.